About
About the Goodness Reigns: People's Choice Awards
The People's Choice Award is part of contests offered by Goodness Reigns, giving contest participants and visitors to its website an opportunity to view and pick their favorite entries.
Once judging panels for each contest choose their winner, all films become available online to the general public for voting. While the voting period spans a specific time period, all entries will remain online indefinitely so that others may view and use them as teaching tools or for inspiration.
Goodness Reigns provides prizes for winners of each People's Choice Competition.
About the Goodness Reigns "Share the Story"/World Youth Day Contest
Geared for teens and young adults—and open to all who are interested in reaching this demographic—the Goodness Reigns: "Share the Story" Contest invites Catholics and non-Catholics to use video as a way to explore faith and examples of the Christian missionary spirit present in today's world.
While people of different faith backgrounds may participate in its contests, submitted material must respect the teachings of the Magisterium of the Catholic Church. These teachings are found in the Bible and the Catechism of the Catholic Church, and accessible through online searches. The  recently released YOUCAT is another publication that explains church teachings in a simpler format appealing to youth, and may be purchased through online or from Catholic book stores.
Open to beginning and accomplished filmmakers from around the world, films for the "Share the Story" Contest must be no longer than 7 minutes and are due in January preceding  World Youth Day, an international event that takes place every two to three years somewhere around the globe.
Winners of the contest may choose to receive either video equipment packages, cash or trips to World Youth Day; the next WYD is scheduled for July 2013 in Brazil.
The Goodness Reigns: "Share the Story" Contest will take place leading up to each World Youth Day.
For details about the 2013 contest, visit: http://goodnessreigns.com/home/2013-contest/.
About the Goodness Reigns Mini Contests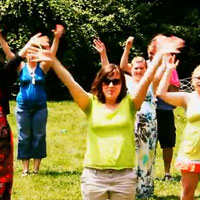 Goodness Reigns offers periodic video contests to prompt the exploration of the faith by youth, young adults and others that may be interested in sharing and/or learning about the faith or those who may be interested in prizes that further their filmmaking capabilities.
The mini contest format offers smaller, yet substantial, prizes and a shorter submission period than its "Share the Story" Contest.
About Goodness Reigns
Our mission is to ignite the imagination of youth and young adults through the art of filmmaking and other technologies so as to better form ourselves as Catholics and inform others of the truths of our humanity and our connection to Jesus Christ.
For more information, visit www.GoodnessReigns.com