School of Mary Contest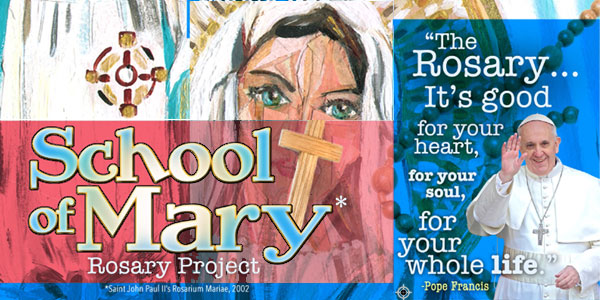 Goodness Reigns/Our Lady's Rosary Makers

International FILM CONTEST

"The Power of the Rosary"
This contest has ended but view our film submissions HERE.
Stay tuned for details this fall about our next contest.

Contest Description: How has the Rosary…
… helped you personally?
… aided a family member or a friend?
… brought strength to a cause?
… shaped a saint or contributed to history?
Your film submission should tell or depict an inspiring true story illustrating the power of the Rosary. Your contest submission may be a documentary, a re-enactment or a compelling testimonial.
Languages other than English: Please provide English subtitles or submit your film's script in English.
Time Limit: Under 5 minutes
Judging: Submissions will be judged for their creative approach to the topic and appeal to young people and a secular audience. The public will be invited to vote for their favorite films during the People's Choice Voting Period in May 2015.
Age: All ages are invited to participate
Submission Start Date: December 8, 2014
Submission Deadline: April 19, 2015
How to Submit Your Film: Upload your submission by visiting www.GoodnessReigns.com .
Winners announced: May 31, 2015
Prizes: $1,000 for the film with the most votes
Other smaller prizes will be awarded and announced during the contest.
IMPORTANT! All submitted material must be original work or be properly credited within your film entry. You may not include in your film submissions any copyrighted video, audio or art unless you receive written permission—a letter or media release form–from the owner of the intellectual property. Participants may use material deemed in the public domain but must include sufficient reference in the closing credits.
ALSO! You can find the necessary media release forms at www.GoodnessReigns.com.

Distribution: Films will be shared online and in other ways through Goodness Reigns, Inc. and Our Lady's Rosary Makers (http://olrm.org).

About Our Sponsor: Our Lady's Rosary Makers was founded in 1949 by Xaverian Brother Sylvan Mattingly on the premise that he would teach people to make rosaries and they would distribute them freely to missionaries. OLRM's mission, set forth by Brother Sylvan, envisions a world in which all God's children possess an instrument of peace and comfort.

Never made a film before or wish to improve your skills? For short, easy tips, visit the Goodness Reigns Online Film School at https://www.youtube.com/user/GRfilmschool.
All submissions will become part of Goodness Reigns' online film archive viewable to the public free of charge at www.GoodnessReigns.com/vote .