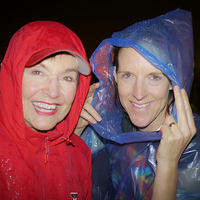 December 7th in
Goodness Radar
,
GR News & Media
,
Pope Culture
,
World Youth Day
by
GRdirector
.
Ave Maria Radio Airs Interview with Goodness Reigns Founder, Emcee
The interview airs for the first time on December 7 at 1:30 PM and again on December 8 at 9:30 AM. To access the station online at these times, or to listen to the podcast following the interview, visit "Power from the Pews" on Ave Maria Radio.
On the final day of World Youth Day 2013 broadcast journalist Peggy Stanton interviewed Suzanne Haugh, founder of Goodness Reigns, and Carlos Tobon, who served as emcee for the 2013 World Youth Day Film Festival in Rio de Janeiro, Brazil.
The interview is part of Peggy's new show "Power from the Pews," which highlights ministry efforts by Catholic laity. It began airing episodes this past fall. The Interview with Suzanne and Carlos took place on the last day of World Youth Day following the closing mass with Pope Francis and 3+ million others on Copacabana Beach.
Goodness Reigns is an outreach to youth and young adults seeking to engage them in exploring the Catholic Christian faith by creating and sharing their media and art. This international outreach is open to all, no matter one's faith background. To date, Goodness Reigns has hosted film contests inviting professional media and catechetical leaders to judge submissions. Following the contest all films remain online for use as free content for catechetical purposes. To view past submissions, visit our Media Archives.
The four-day film event in Rio de Janeiro was sponsored in part by Our Sunday Visitor and highlighted the works of filmmakers from around the world. Goodness Reigns hopes to expand its contests to include original art and musical composition.
Peggy traveled with Goodness Reigns for World Youth Day 2011, along with her grandson Jack, and returned for the week-long event in 2013 with friend Bina Crawley.
Filmmaker Gabe Castillo also traveled with Goodness Reigns for the WYD Film Festival. Gabe serves as the online filmmaking instructor for Goodness Reigns by providing short informative films on how to improve or begin filmmaking. View Gabe's videos on our Online Film School site.
For more information on Goodness Reigns or to lend your support through a gift of time, talent or treasure, please contact Suzanne at 502-468-4688. Obrigado! (Thank you! in Portuguese)
Feature Photo: Peggy and Suzanne survived the "hurricane" during the 2011 WYD vigil in Madrid, Spain.