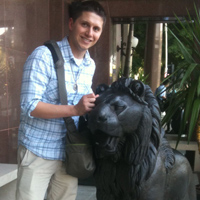 August 3rd in
World Youth Day
by
GRdirector
.
World Youth Day 2013 – Day 5, Part 2 – Providência
Brush with evil act prompts exploring God's providence and the fruits of praying the rosary.
Providência
It's difficult to know where to begin with this day except for the fact that it really began last night.
I hesitated to share this incident last night so as not to alarm my family and friends. After walking and manuevering through another day in Rio, I am confident that goodness is prominently on display in this city and that what may have happened last night was an incident that hopefully leds many to goodness and holiness, at least that is how my colleague Gabe sees it. (There is no need to cower from adventure as long as we remain cautious and aware of our surroundings.)
We are located on the second floor of the hotel, which is situated in what is considered and is known to be a safe neighborhood. Since arriving we have walked the streets close, near and far and there is a sense of comraderie among its inhabitants. There are two churches within walking distance and neighbors meet and converse at various outdoor cafes.
Now some, not many, World Youth Day pilgrims have moved into the area, particularly our building so it is not unusual to hear groups returning and being joyfully loud in the lobby. This is what I thought I was hearing last night but moments later I learned that the loud "Ave Maria" I heard downstairs (followed by a loud motor cycle) was actually from Gabe as he was being robbed at the hotel's front desk. It's difficult to put into words how best to describe Gabe but if it helps any, Gabe foiled two pocket-picking attempts at WYD in Madrid. He just seems to attract out-of-the-ordinary occurences. (Two of my three kids that have traveled with Gabe will attest to this!)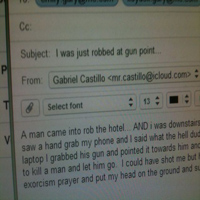 The short story is that Gabe was standing at the front desk working on his computer when a man in a motorcycle helmet pointed a gun at him. He doesn't exactly know why he did what he did next. Gabe turned the gun pointed at him (he had just finished his presentation) back on the man but then let go, dropped on his knees and started praying a exorcism prayer in Latin after saying "Ave Maria."
One thing to know about Gabe is that he is never without a rosary, as he usually has one wrapped around his wrist. The robber immediately grabbed Gabe's computer (as well as his phone) and ran out the hotel doors, jumping on the back of a motorcycle driven by another person.
In Gabe's mind, it was providência. He was to give a different talk for his session today since his presentation had just ran out the door. Many people who know me would understand the name Pollyanna is mostly fitting to my history. Gabe, however, has had a rougher upbringing. He grew up without a father and landed up doing some bad things.
Now 30 and a husband and father to two beautiful kids, he is involved in church work and crafting faith-based videos on his Youtube video channel "truefaith" (among other pursuits). I first came to know Gabe through his contest film on St. John Bosco. Since then he creates short videos on how to improve your filmmaking on the Goodness Reigns Online Film School channel. He traveled to Madrid and to the NCYC  in 2011. For someone who does not market himself, his Facebook friends seem to find him wherever he goes.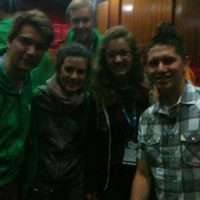 So it wasn't surprising to me that after today's revised presentation focused on the need to grow in holiness through the rosary and the Eucharist in order to really evangelize using media, he group of male WYD volunteers standing by me expressed their sincere appreciation for being able to hear him speak candidly without talking around topics pornography and unchaste living.
In his presentation, Gabe brought up the topic of the fruits of praying the rosary and gave the group of mostly French pilgrims rosaries and materials to take.
The first fruit of the rosary is that those who faithfully prayer the rosary will receive "signal graces." That is occurrences around them will help guide their way. This is the trust Gabe puts into Mary's intercession through the rosary. I have wintessed the demeanor of our tech crew change in the few days we have had with them after giving them rosaries. As Gabe reminded us today, the rosary is really the life of Jesus prayed.
Here is a link that describes the promises of the Rosary:  http://www.ourladyswarriors.org/prayer/15promise.htm