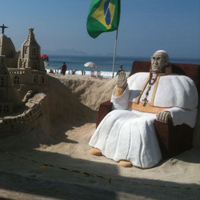 July 22nd in
Goodness Radar
,
World Youth Day
by
GRdirector
.
Day 2 – Finding Our Way, Film Fest Ready to Roll
Suzanne Haugh will be blogging about the WYD pilgrimage and Goodness Reigns FIlm Festival in RIo de Janeiro. She is journeying with filmmakers Gabe Castillo, Carlos Tobon, Peggy Stanton and Bina Crowley at this Catholic event hosted by Pope Francis and expected to attract 2 million people from all over the world!
It was another full day with plenty of blessings packed in. Not too much time to report details but I will share some images and more Obrigados!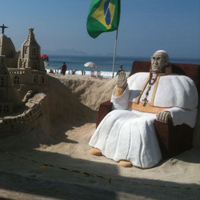 Sand art lines the walkway on Copacabana! We had to travel to the Fort of Copocabana to pick up our press credentials. I almost left my passport at the check-in but Adam from London ran it to me as we headed into the press area. There, we found lots of important looking people–and lots of muscled-men standing guard. Gabe decided that he would not try too hard to go to places he is not credentialed to go in as these guys are not to be messed up! Also while there we saw young recruits in formation marching and singing–impressive in a scary way!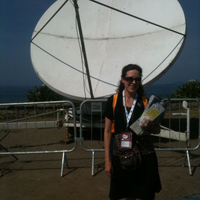 I was very fortunate to spot Fr. Thomas Rosica of Salt and Light TV in Canada. He served as a GR judge in the past and is leading up part of the WYD event. When I spoke to him he said there were some logistical challenges. The English speakers may only number about 2 percent of the number of pilgrims attending the event so it is a different experience. We have only encountered a few from the US.
We checked out the theater where our event will be held and the DVDs worked with the system! Yay!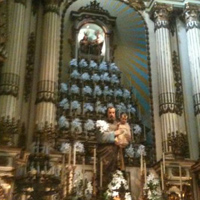 Then we went to a church with this statue of St. Joseph and I was reminded of and thankful for my husband who is doing double duty with work and managing the kids.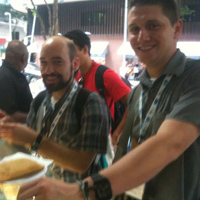 Carlos Tobon (our film fest emcee) of the CIA contest movies arrived today from Colombia and we shared many laughs and prayers as we completed our to-do lists for the film fest tomorrow. We shared pastels and bebidas at a local cafe as classical music played from a close-by book/music store.
Our next stop was the office of Aid to the Church in Need. They are providing a film for Friday's program called "Farms of Hope" – a program for former drug addicts. THey also have an exhibit in a public square. There, we saw the arrival of Pope Francis televised.
Our adventures took us to the WYD office (pic below). There are over 600 events going on around Rio. It's a mountain to maintain and we are thankful to the many volunteers who give of their time.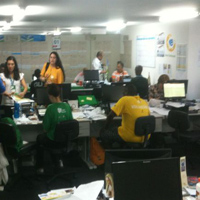 Later in the day, crowds lined up to catch a glimpse of Papa Francis! There were a mountain of people cheering and rushing to the streets to catch a glimpse. A good bit of his trip through the streets was in a minivan and were down streets without barriers so people rushed his car causing a slower progression for the motorcade and a very active security detail to keep people back–except for the babies, which Papa Francis often asked to kiss.  In the photo showing the people you get a glimpse of the modern cathedral – the cone-shaped building in the background. There is also an older, more traditional looking cathedral.
We walked back many blocks to return to Argentina Hotel. The general rule is to be careful where you are after dark and to stay in populated, more neighborly areas. The "climate" of an area can change quickly so it is important to keep an eye out. That said, walking down the street in the more "big city" area is like being in New York City.
Back at the hotel we met our first USA pilgrims–from Wisconsin and Minn-e-sooo-ta! Fun!
By the time we arrived back, the cafes were closing but we managed to buy some bread, cheese and ham for sandwiches back at the hotel lobby as we reviewed plans for the first day of the fest. I watched the evening news of Pope Francis' arrival. He is somewhat of a live wire so I expect he will continue to add some extra spice to the event. The pilgrims on the street are very friendly; lots of "ciaos" and "holas" and people asking questions. Anglos are definitely a minority, but that is a good experience, too. Much joy and kindness–not just from visitors but from the locals. I sat next to a woman on a bus whose dream is to go to San Francisco. Others have helped with directions.
We have seen some protests – very small  and some very curious ones. In the news they showed some more dramatic and disconcerting protests–small–so it is always good to keep all things in mind.
Finally, I can't say enough about how prayers have been answered and faith confirmed with little gifts of kindness and direction when needed. Our fall-back routine is one Hail Mary and one Memorare.  Continue to pray for us and we will pray for you.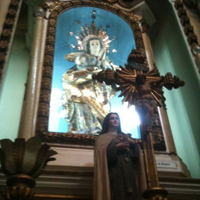 Many blessings in Rio!