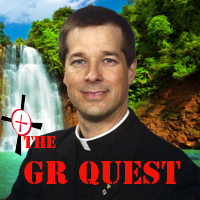 June 15th in
World Youth Day
by
GRdirector
.
Newest GR Quest – Contest Winner to Receive Video Camera
Test your knowledge of the Catholic faith and you may be the next owner of a Kodak Play Sport Video Camera! Answers due July 31.
Are you ready for another round?! Please answer the questions in the comment area below by July 31 and we will choose a winner in early August.
1.  Who is the patron Saint to whom people pray when they have lost something?  What day is his feast day?  Throughout his life, many miracles were attributed to him.  Give one story.
2.  What feast day is the birthday of the Church?  Where in the Bible (Book & Chapter) do we find this feast day occurring?  What sacrament of the Church is given by which Catholics receive the same gifts which were given on this feast day?
3. What is the famous pilgrimage route in Spain that attracts people from around the world? How did it develop?
4.  A Protestant friend does not understand why Catholics have a devotion to the Sacred Heart of Jesus.  He asks, "Why do Catholics look at a statue or picture of Jesus with a flaming heart?"  Explain to him the importance of this devotion.