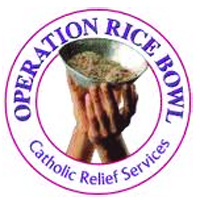 March 13th in
Goodness Radar
by
GRdirector
.
Operation Rice Bowl: Start a Lenten Tradition
"Operation Rice Bowl makes you aware of what's going on in other countries; how money is being used–and it helps people." Carolyn, age 14
Each year Catholic Relief Services offers us a chance to journey to countries around the globe to learn about outreach services that improve the lives of individuals and communities in need.
This is one of my family's favorite Lenten traditions as  CRS provides a calendar spotlighting an individual from a different country each week and describes the services provided through contributions to CRS.
Along with reflections each day, the calendar provides a recipe for Friday's meatless meal typical of the country being profiled as well as suggested donations to the cardboard rice bowl that will be sent to CRS at the end of Lent.
Videos from each country are also included.
If your parish or school does not provide the cardboard Rice Bowl, do not fret! Here is the link to the printable calendar; you can use your own container. The calendar will also provide information on where to send contributions at the end of Lent.
Link: http://orb.crs.org/wp-content/uploads/2009/11/Lenten-Calendar.pdf
Help CRS and yourself this Lent–and start a tradition that changes lives.