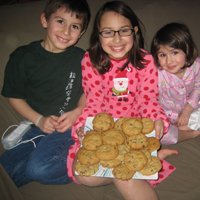 February 15th in
Goodness Radar
by
GRdirector
.
Seven Reminders of Goodness Children Offer
I forgot that I had a million other things I needed to get done. I was present to this little girl giggling and yelling, "as fast as you can!" as I pulled her with all my might.
A few months ago, my aunt called and asked me if I wanted to come take care of her three kids while she and my uncle went away on an anniversary trip together.
I am honored that she'd trust me, but also delighted that I got to spend time with three of the most precious children I've ever met. I'm not exaggerating; I talk about them all the time. If I have a family even half as adorable as this one, I will consider myself to be beyond blessed.
I had impeccable timing for my trip to the suburbs of Chicago. No sooner had I arrived than a record-breaking blizzard hit the area!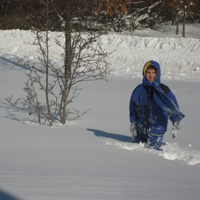 As a result, the time I was expecting to have by myself (to work on writing for the blog, no less!) while my cousins were at school was instantly transformed into snow days with three kids, and me in charge 24-7. After encouraging them to finish their homework on the first day with, "the more you get done tonight, the more time we'll have for fun tomorrow!"—we were free to bake cookies, watch cartoons and play more rounds of UNO than I've ever played in my life.
I'm not going to lie. My intense stint as household commander-in-chief was a bit challenging. I'm not used to being a single mom of three, no matter how amazing Gianna (5), Nicolas (7) and Grace (9) are! But, per usual with most unexpected things, many blessings came from it.
Jesus says in Matthew 18:3, "Amen, I say to you, unless you turn and become like children, you will not enter the kingdom of heaven."  After spending a week with my little cousins, I have a new understanding of what Jesus might have meant. I may have taught Grace how to cook oven-roasted chicken, but the truth is that the three of them taught me so much more.
Here are seven things to name because seven is my favorite number! And, more importantly, a holy number…
1-    Joyfulness. Playing UNO with Gianna is probably one of the most fun things ever. Sure, I lose almost every time, but she makes it worthwhile. When being dealt cards, Gianna eagerly picks up each card as they come to her. She squeals with delight at every "special card" she picks up. The sheer magnitude of excitement over a couple of "draw 4" cards amazes me! When did we lose sight of the simple joys in life?  
2-    Honesty. Nicolas has no qualms about telling you how he's feeling. It's almost comical. In the middle of a conversation or a game, he'd say, "I'm hungry" or "I'm tired" or "I'm bored."  On my last night with them, Nicolas turned to me after bedtime prayers and asked me how many days I'd been there. We counted them out loud together, and he concluded, "so that means you leave tomorrow? I'm going to miss you, Rebekah."  He's so genuinely honest it's beautiful. He will tell you exactly how he's feeling, physically and emotionally, and that's how we're called to be with God and with each other. Imagine if we were that honest as adults!
3-    -Imagination. The first snow day, the kids were antsy to go outside. After calling my Illinois-raised Dad for advice— to make sure that we wouldn't DIE in the sub-zero temperatures, we bundled up and headed out on our adventure. After many jaunts down the hill in the sled, Grace decided to become an explorer. She trudged through paths, marking the way for her younger siblings. She piled snow around trees, creating her own little fort until moving onto the next round of bushes. Grace picked up every twig or branch, smelling each one to capture the freshness, and collected them in a pile on her sled to bring back home. Much like a character from one of her favorite shows, "Little House on the Prairie," she pretended to start a fire in the woods to keep us warm. Grace even found a stick with a rope on it for Nicolas' "horse". The yard was her world to make her own.  I imagine God smiles at us, too, when we allow our imagination to play, to dream, to imagine possibilities beyond what we see.
4-    -Being present to the moment. On our way back from our snow adventures, Gianna was cold and tired. The obvious solution was to hop on a sled and have me pull her all the way home! The only problem with that idea is that it meant ME trying to walk through 20 inches of snow, AND pulling a child. My first thought was, "no wonder women have husbands! I am not strong enough for this!" But Gianna would crack up every time she fell off the sled—and every time I sunk deeper in the snow! And I found myself laughing with her. I soon forgot about the fact that I was freezing cold, and that I had never EVER been in this much snow in my life. I forgot that I had a million other things I needed to get done. I was present to this little girl giggling and yelling, "as fast as you can!" as I pulled her with all my might.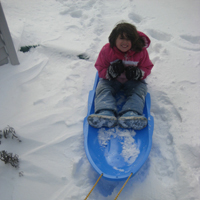 5-    Servitude. Our last night was a school night, and the family room was still set up as a fort of blankets from our snow days' slumber party. I took Gianna for a bath, and said to Grace, "it would really help me if you cleaned some of your toys and blankets from the family room and got ready for school tomorrow." She looked at me and smiled and led Nicolas off to the family room to get things done. When I came out of the bathroom, all the toys were put away except for one stuffed animal that was on the bed with them for Gianna and I. They were excited to help! It touched my heart that they had such a serving attitude, willing to help me in any way. It was humbling how readily they showed their love for me by jumping in to serve whenever they could.
6-    Real love without conditions. Before I went out of town, some of the girls from my youth group were giving me a hard time about being a bit of a pushover. I have a stern "mom face"—then quickly break into a laugh and can't hold it any longer. But when three siblings are fighting with each other and not listening, you better believe that my stern voice and face come out pretty naturally. My fear was that once that side of me came out, there would be no more hugs and games with cousin Rebekah.  But the hugs and love were still there! They still wanted to snuggle and play with me, no matter what. They love with an innocent heart, unconditionally. Without bitterness, hurt or grudges. I yearn to love that simply, like a child.
7-    Vulnerability. One night I woke up thinking that I heard a bedroom door creak open. I opened my bedroom door and saw Nicolas standing in the hall. He looked at me and asked, "will you stay with me until I go back to sleep." He wasn't afraid to tell me that he needed me. He didn't need anything from me, only to kiss him goodnight again and to sit by his bed until he fell back asleep. Sometimes all you really need to know is that someone is there. But it's up to us to let God—or a friend—know what we need.