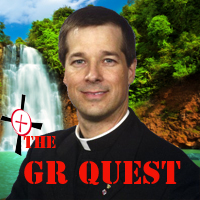 January 8th in
World Youth Day
by
GRdirector
.
January's GR Quest Is Here!
Submit your responses in the comment area below and we'll announce the winner in early February.
Answer the following questions in the comment area below and you may be this month's winner!
Good luck from Father Dan!
1. Find three countries on three different continents and tell the number of pilgrims registered to attend World Youth Day. (Hint: You can find an interactive map on the official homepage for World Youth Day by visiting this link: http://www.madrid11.com/.)
2.  The Feast of St. Thomas Aquinas is celebrated on January 28. Often he is equated with the gift of chastity.  Tell me why.
3.  Keeping with St. Thomas Aquinas, at the end of his life he said to his secretary and friend, Brother Reginald, "The end of my labors has come.  All that I have written appears to be as so much straw…"  Why did St. Thomas make such a statement?
4.  Throughout the Bible, certain people have their names changed to signify a particular calling from God: Abram to Abraham, Jacob to Israel, Simon to Peter.  On January 25, the Church celebrates the Feast of the Conversion of St. Paul.  Unlike these others, St. Paul did not have a name change as some people often think.  What other name is St. Paul known by?  And why does he have two names?
5.  On January 22, we will commemorate the 38th anniversary of Roe vs. Wade, the Supreme Court case, along with Doe vs. Bolton, which made abortion legal on demand in the United States throughout all nine months of pregnancy.  What would you say to someone who tells you that abortion should be legal and that a woman has the right over her own body?   Be convincing.