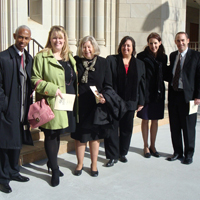 December 22nd in
Goodness Radar
by
GRdirector
.
GR Heads South for Youth Conference
Road trip to New Orleans becomes pilgrimage with important missions!
"Fear not" …. and GO!
Do you ever feel bombarded by choices and wondering, as you're deciding, if you're making the correct ones? That was my predictment earlier this month as I prepared to attend the conference for Catholic youth ministers in New Orleans hosted by the National Federation for Catholic Youth Ministry. It became not only a trip but a pilgrimage and a chance to see and meet some very wonderful people. I was on a mission!
First Stop: Hilton Riverside, New Orleans
It was a trek to get there, blazing down the highways in my momma mini-van! Eleven hours of driving and hoping for no flat tires. My staple of choice: Nekot peanut butter crackers. Once I landed in the hotel lobby, it was heartening to be among other Catholic youth "missionaries."
Second Stop: Church of the Immaculate Conception, New Orleans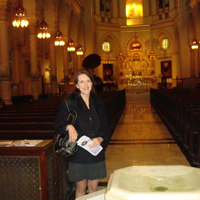 "Fear not" were the words in the First Reading at the Mass I attended Dec. 9 at the Church of the Immaculate Conception in New Orleans–the first day of the convention. It was a long road there; and a long story as to why I was there at that particular church.
Years earlier I reported on a businessman-turned-deacon whose wife had been miraculously cured soon after they had been married following his visit to the same church. He had prayed to the Blessed Mother asking for her intercession. (Here's a link to the story on Deacon Harold Gourgues, who died many years later of pancreatic cancer: http://www.georgiabulletin.org/local/2005/12/22/legacy/?s=gourgues). Harold's story has furthered my assurance of divine providence because he was planted in my life at a time when a special friend was struggling with her mom's cancer.
Now I was praying for people like Shawn, a student in Philadelphia, who is struggling physically with cancer. I had come to know of his situation through teacher and video club moderator Tom McMahon. I lit many candles that morning-including one for those taking up the challenge to be digital witnesses for their faith through the Goodness Reigns contest! I also met John, a homeless man seeking shelter from the cold and who was piecing his life together. He was kind and took the picture you see of me in the church.
Third Stop: Breakfast at Brennan's with Outside da Box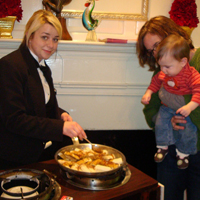 What's better than sharing in a fantastic meal? Doing so with faith-filled and fun people! That was my experience at Brennan's-the birthplace for one of my favorite desserts: Bananas Foster. The photo shows Becky Groth and daughter Evie. Becky's husband, Eric, has been a crucial force in putting together the Goodness Reigns contest and it's always a pleasure when our paths cross.
Fourth Stop: Convention Center
Not planning ahead, I had the challenge of carting my Goodness Reigns materials by foot from the hotel a few blocks down to the convention center. Many good samaritans helped me haul my gear, including the 24″x36″ giclee of our WYD painting! Among them were Father Ross and a fellow youth minister and  friend from Erie, PA. Low and behold Father Ross and his class had registered for Goodness Reigns and were preparing to make a movie for the contest!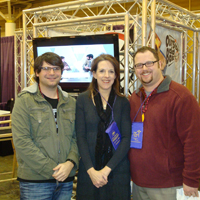 It was a marvelous four furious hours of talking with folks at the conference. Sadly, my time was limited due a funeral of a friend I was to attend the next day.
Fifth Stop: The Send off of a Friend in Atlanta, GA
Bobbie Friel was a mother to many and a woman of faith who walked the talk. I was honored to be asked to participate in her funeral Mass, attended by many dear friends from the Georgia Bulletin newspaper, the archdiocesan newspaper for the Atlanta Archdiocese that I have contributed to in the past.
My favorite Bobbie story was her concern for an aunt who was close to death but had not accepted Jesus in her life. I clearly remember Bobbie discovering that her aunt was seeing a bird as she drew closer to passing. Bobbie was sure it was "the Holy Spirit bird". I couldn't help but smile through tears as I noticed what was emblazoned on the cream-colored pall draped over Bobbie's casket–that Holy Spirit bird!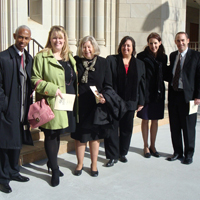 Sixth Stop: Home
My oldest daughter had been singing Christmas carols for weeks as she prepared for her school's Christmas program to be held in the evening. I hoped to arrive home in Louisville in time for the performance but was there in time only to sneak up behind her as the performance ended. I was to arrive home the following day so it was a big surprise when she saw me. She squealed in delight and I received the biggest, unashamed bear hug in front of her friends.
Thank God for bringing me home safely!