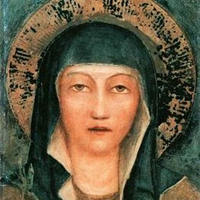 September 16th in
OMJesus & Saints
,
Pope Culture
,
World Youth Day
by
GRdirector
.
'Trailblazer' St. Clare Shows How Women of Faith, & All Saints, 'Change the World'
Zenit News Service reports daily on addresses by Pope Benedict XVI and events concerning the church. Read more at www.Zenit.org.
Pope Explains That It's the Saints Who Change the World
VATICAN CITY, SEPT. 15, 2010 (Zenit.org).- It is the saints who change the world, Benedict XVI says, affirming that they are the "great benefactors of humanity."
The Pope made this affirmation today during the weekly general audience when he reflected on St. Clare of Assisi, whom he referred to as "one of the most beloved saints" of history.
The Holy Father spoke of the saint's role as a bride of Christ, and how in this way, she reflected the identity of the Church.
"Over the course of history innumerable women like Clare and her companions have been fascinated by Christ who, in the beauty of his Divine Person, fills their hearts," he said. "And the entire Church, through the mystic nuptial vocation of consecrated virgins, shows what she will always be: the beautiful and pure Bride of Christ."
Leading the way
The Pontiff also noted how Clare was a trailblazer: She was so convinced of the need for poverty as a Franciscan tenet of spirituality that she obtained permission for herself and her sisters to own absolutely nothing. This was an exception to canon law of the day, Benedict XVI noted, but authorities granted her request, "appreciating the fruits of evangelical sanctity that they recognized in the way that Clare and her sisters lived."
The Holy Father also reflected on the position of women in the Church, as seen by Clare's life: "In the Medieval centuries, the role of women was not secondary but rather was considerable. In this regard, it is appropriate to recall that Clare was the first woman in the history of the Church who composed a written rule, subject to the Pope's approval, so that the charism of Francis of Assisi would be preserved in all the feminine communities that were being established already in great numbers in her time, and that wished to be inspired in Francis' and Clare's example."
The Pope also pointed to Clare as a model for the heroic practice of the virtues "that should distinguish every Christian: humility, a spirit of piety and penance, charity."
"Even though she was the superior, she wished to serve the sick sisters herself, subjecting herself also to very humble tasks: Charity, in fact, overcomes all resistance and one who loves makes every sacrifice with joy," he said.
The Bishop of Rome affirmed that it is indeed the saints who make a lasting difference in the world: "It is the saints who change the world for the better, they transform it in a lasting way, injecting in it energies that only love inspired by the Gospel can arouse. The saints are the great benefactors of humanity!"