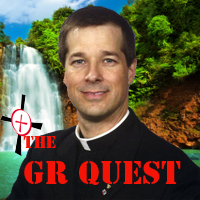 September 1st in
World Youth Day
by
GRdirector
.
Take the GR Quest #5 and You May Win a Flip Camera
Answer these questions in the comment area below by September 30. We will post the winning entry soon after and announce the winner!
Test your knowledge of the Catholic faith and learn something along the way! Fr. Daniel Whelan, known as  Padre Dan to some, will challenge you with 5 questions each month.
Send us your answers in the comment area below this entry by

September 30

and you may be the winner!
On September 29, the Church celebrates the feast of the Archangels, Michael, Gabriel, and Raphael.  Traditionally, how many choirs of angels are there and list them from highest to lowest? What is a "choir" of angels?
On September 13, whose feast day is celebrated?  What does his second name mean and why was it given to him?
We are a Church of Scripture and Tradition.  What biblical scholar, who gave us the Vulgate, the Latin translation of the Bible, said, "Ignorance of Scripture is ignorance of Christ?"  When is his feast day celebrated?  Of what occupation is he the patron saint?
As of this posting date the official World Youth Day site http://www.madrid11.com/JMJ2011ESP/REVISTA/cabecerasypies/PreHome.asp comes to us in 18 languages. What are they?
A non-Catholic friend wants to know about St. Pio of Pietrelcina, whose feast day is September 23.  The one thing he does not understand is the stigmata that St. Pio had.  In a few sentences, explain to your friend what is the stigmata and why St. Pio had it.
Share your answers below in the comment area and you may win this month's prize–a Flip camera! You may only enter once.  We will contact the winner and will post the winning entry by Oct. 1.