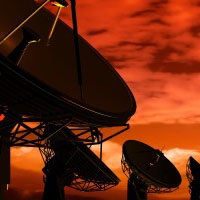 I have something to confess…
…I'm a mom. Not only a mom, but what I call a "Radar Mom!" Do you live with one? Now that you're on your own does one call you daily? (Do you wish you had more of one?)
As much as I would like to delve carelessly into the pop culture world you inhabit, trying desperately not to panic when I listen to the lyrics of a current hip-hop song (with a great beat, by the way), my radar goes up, my eyebrows lift, and I tell my teenage daughter (and son–who's not too far behind in age), "Do you know what that means?!"
Long before I became a radar mom, I was a teen with awkward hair, a "what-about-these-other-religions" college student, an adventure-seeking young adult (spelunking anyone?), as well as a girlfriend, a new wife, a new mother.
In previous lives I've had the privilege of being a teacher to young and old. And, for the last 11 years, I've worked as a writer and Catholic journalist, interviewing many and learning more about my Catholic faith in the process.
As with your parents, I've been caring for my kids since they were in utero.  I am programmed to seek their safety and wellbeing.
And it's not just their physical and emotional wellbeing that concerns me. There's also the spiritual component to consider.
"If you let the devil ride, he'll drive," preached Rhetta, a tobacco-chewing Christian grandma and friend. Her words have stuck with me.
Through this blog, I hope to help you navigate today's media world, looking at moral and spiritual issues from the perspective of being Catholic.
We will hear from notable Catholics and other sources, concentrating often on media influences and how the truths taught by Jesus Christ, manifested in the church, lead us to satisfying, joy-filled  lives while weathering the bumps along the way.
So welcome to this adventure!
I want to know where you are on this spectrum—teen, young adult, even a new spouse, a new parent, perhaps? What are your questions of faith or questions on church teachings you'd like to explore? Also, what are the good and not-so-good messages you hear in today's pop culture?
-Catholic Radar
"Brush your teeth, say your prayers and, 'Be kind, for everyone is fighting a great battle.'" (Philo of Alexandria)
NEXT UP:
What is sin anyway?
Talking with Fr. Tim Hepburn, chaplain at Georgia Tech, Atlanta
"Imagine Eve standing naked before this deadly force, a big, mean, saber-toothed serpent, … (which says to her) 'God told you that if you eat from the Tree of Knowledge, you'd die. But God knows that if you eat of the tree, you will be like him. God's not fair. And by the way, look at my teeth.'"